Westcountry Housing 'no play' order angers Greenbank parents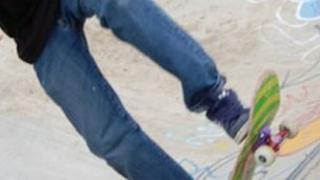 Parents on a Plymouth estate have reacted angrily after being told their children are not allowed to play in the street.
Westcountry Housing Association wrote to residents on the Greenbank Estate saying it had received a number of complaints about antisocial behaviour.
But parents are angry, claiming the play area is boarded up and children have nowhere else to play.
The play area was boarded up in April last year after it was vandalised.
'Minority' of troublemakers
Barry Morris, who lives on the estate, said it was teenagers using the play area to smoke and drink who caused the damage.
"This is all to do with the older children and we know what they can be like," he told BBC News.
"But it's a minority causing the problem, so instead of penalising everybody Westcountry should go to the troublemakers.
"We just want them to let the children play."
Westcountry Housing wrote to residents last week stating children could not play football or ride bikes, scooters or skateboards in the car parking bays or pedestrian areas.
The letter said the association was aware that some problems had been caused by friends of children who live on the estate.
But it went on to say if anyone was identified to Devon or Cornwall Police or Westcountry Housing as causing antisocial behaviour it could constitute a breach of tenancy agreement and further action would be taken.
One resident, who asked not to be identified, said they had experienced problems, including verbal abuse and damage to their car.
Westcountry Housing spokeswoman Vanessa Gray said the association's intention has always been to reopen the play area for the children, although that would take "both time and money".
"There have been delays because Groundwork, the agency we've been working with, went into administration and we couldn't anticipate that," Ms Gray told BBC News.
"Groundwork is back up and running but the work will cost about £40,000 to £50,000 and at the moment we've got about £12,000 ring-fenced, so we have to look for other funds."
She said it would take time, adding that realistically it was "very unlikely" the play area would open before the end of the school holidays.
A meeting will be held on Friday to discuss the play area and other issues.
Mr Morris said he would be attending as he suspected many other parents would.
"I'm angry - it feels to me like they're taking away the kids' freedom to play and for me as a parent this is unacceptable."