Olympic medallist Mary King to ride through Sidmouth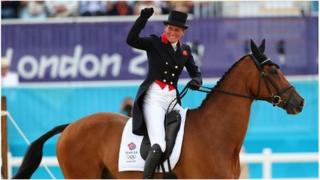 Olympic silver medal winner Mary King is planning to ride through a Devon town to thank the community for its support.
Mrs King, 51, from Sidmouth, won a team silver in the eventing on day four.
She plans to ride through the town on her horse Imperial Cavalier on 17 August.
Mrs King has represented Great Britain at six Olympic Games winning two silvers, her previous in Athens, and a bronze medal in Beijing.
She said: "Sidmouth has been really supporting me and they want me to ride through the town."
Mrs King plans to ride dressed in her Olympic kit and wearing her latest medal.
"It'll be lovely for me to repay Sidmouth for all their support."
Rio 2016
She said: "I would have loved to have come back with a gold medal, but you've got to think how lucky I am to be at an Olympic Games and even winning a silver medal.
"It must be every sportsperson's dream just to compete at an Olympic Games."
Mrs King, who hopes to compete in the Olympic Games in 2016 in Rio, said: "Fingers crossed I'll keep fit, well and brave and I'll have a horse that's capable of that Olympic level in four years' time."
Her 16-year-old daughter Emily, who also hopes to compete in 2016, said: "It would be amazing.
"Mum would be more likely to get there, but we would, I think, be the first ever mother and daughter to compete on the same eventing team at the Olympics.
"It's a really big dream for both of us, but I might be a bit young and mum might be a bit old," she said.
Imperial Cavalier, who is 15 years old, will be too old to compete at Rio and Mrs King said she would be focusing on one of her younger horses.