Torquay United grandstand honours lottery winner Paul Bristow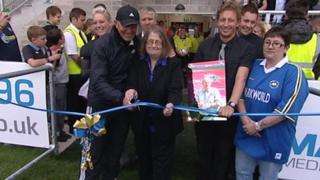 A new football grandstand, partly funded by money from a fan who won the lottery, has opened in Devon.
Torquay United named the stand, which cost about £2m, "Bristow's Bench" in honour of benefactor Paul Bristow, who died in 2010.
Gulls' fan Mr Bristow won £15m with his wife Thea in 2004.
The club said the stand was a "superb memorial" to Mr Bristow who became a director at Torquay United. His widow performed the ribbon-cutting ceremony.
Bristow's Bench has a seating capacity of nearly 2,000.
The lottery winner, who died of a heart attack at the age of 59, became known for his generosity after chartering a private plane to take the 90-strong Scout troop he ran with his wife on a £500,000 two-week trip to Canada.
Mrs Bristow is still involved with Torquay United, having taken her late husband's place as a director of the club.