Fishermen fears Marine Management Organisation's coast plans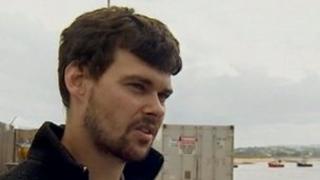 Fishermen in Devon fear the introduction of strict controls around the coast could be the "final nail in the coffin" for their industry.
The Marine Management Organisation (MMO), is "mapping" the south coast, from Dover to Dartmouth, as part of its plan to promote sustainable development in coastal areas.
This could include tighter controls to protect UK waters "for all marine users".
But Tom Gosling, a fisherman from Exmouth, said the industry needed help and not stricter rules.
"They're just trying to drive another nail into our coffin," he told BBC News.
'Fishermen are suspicious'
"We feel that we're being pushed out. We're an inshore fleet that can only fish inshore - when are we going to start to see stuff for us?"
His view has been echoed by Rick Smith, from the Brixham Trawler Agents, who said: "The fishermen are suspicious of this.
"It's not necessarily the deep sea fishermen who will be affected, more the inshore boats.
"This will push them further to sea to make a living. Their boats are quite small and when the weather's not good they don't want to be miles away from home."
The marine economy is said to be worth £47bn per year to the UK and the government has said regulation is needed to protect the environment and secure its future.
Accountable to Environment Secretary Caroline Spelman, the role of the MMO is to have an overview of the marine environment, including habitats, fish stocks, wind and wave energy, shipping and leisure use.
The UK is thought to be one of the first countries in the world to plan across all activities for all its territorial waters.
'Need to co-exist'
The marine plans aim to bring all these aspects together and simplify the planning rules.
Jim Portus, from the South Western Fish Producers Organisation, said it was important that planning was done from all levels and new rules did not result in fishermen losing their livelihoods.
"I don't want a whole heap of fishermen being laid off and replaced by a marine national park. That would be a shameful outcome," he said.
Mapping of the eastern coastal area from Kent to Yorkshire was carried out last year.
Steve Brooker, head of marine planning, said the south inshore and offshore marine areas had been chosen next because of their range of marine activities "that need to co-exist in busy waters".
"These marine areas are identified as environmentally sensitive, so it is vitally important that new activities are introduced in a sustainable way."
Devon Wildlife Trust said it hoped to be involved in the MMO's consultation.
"History shows that if properly managed, our seas have the capacity to provide rich resources not just for now, but for future generations," a spokesman said.
The marine planning will include:
• A guide to the most suitable locations for different marine activities
• How to sustainably manage marine resources
• A consultation to allow all marine users to contribute to the marine plans