'Huge' Olympic party for Plymouth's Tom Daley and Ruta Meilutyte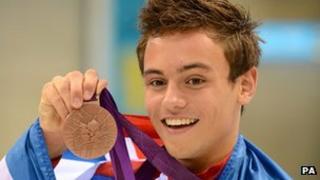 A "huge welcome home party" will be held in Plymouth to celebrate Tom Daley's Olympic success, the city council leader has confirmed.
Tudor Evans said plans were under way to celebrate Daley's bronze medal in the men's 10m individual platform and Lithuanian Ruta Meilutyte's gold in the women's 100m breaststroke.
Mr Evans also hinted at the prospect of an open bus parade through the city.
Both Meilutyte and Daley study at Plymouth College.
Mr Evans said: "We are not giving too much away yet, but there will be a huge welcome home party for all of the city's athletes.
"We are a proud city, and we want to honour the fantastic achievements of Tom, Ruta and the other competitors."
On Saturday, hundreds of supporters turned out to watch Daley in his final appearance at the 2012 Games on the BBC's Big Screen in Plymouth city centre.
Staff from Plymouth College also met up at the campus to cheer on their pupil.
Earlier in the competition, Meilutyte, 15, who moved to Britain three years ago, won Lithuania's first ever Olympic gold in the pool.
Mr Evans said the council and the athletes were trying to arrange a suitable date for the party.
"One thing is for sure, there will be a real celebration in this city," he added.