North Devon chemotherapy appeal reaches £1m mark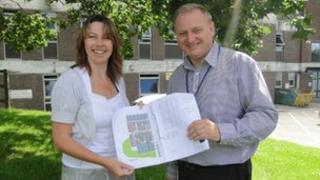 An appeal to raise more than £2m for a new chemotherapy unit at a Devon hospital has reached its halfway mark.
About £1m has now been brought in by the Chemotherapy Appeal, which is raising cash for the unit at North Devon District Hospital.
The proposals include space for families and room for organisations such as the Citizen's Advice Bureau.
Health officials said the plans would go out to consultation before a planning application is submitted.
Ian Roome, the appeal's fundraising manager, said: "We have 20 to 30 people coming through the chemotherapy unit a day at the moment and we just don't have the space we need.
"If we can raise enough money, I don't see why we can't start building this at some stage next year."
The Chemotherapy Appeal, which started in February 2011, is the largest the hospital has attempted.