Plymouth secures British Firework Championship for six years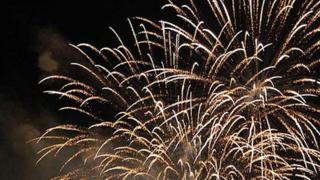 The British Firework Championship will be held in Plymouth for at least the next six years.
The city council said a deal had been signed to secure Plymouth as the host city until 2018.
The two-day event, which attracts an estimated 100,000 spectators every August, costs the council about £100,000.
But the council said this year's event - on Tuesday and Wednesday - should contribute about £4m to the economy.
Deputy leader Peter Smith said securing the competition for the city made sound economic sense.
"It only costs £90,000 which is a pittance in what we get back for the economy, so it's a no brainer.
"All the guest houses and hotels are already full and the average spend of a visitor to the city is £40 for an event, so times it by 100,000 and there's your £4m."
Six previous winners will produce a 10-minute display to compete over the two nights to become "champion of champions".
It is the 16th time the championship has been held in Plymouth. The fireworks are set off at Mountbatten jetty in Plymouth Sound, giving spectators vantage points around one of the country's largest natural harbours.
Star Fireworks, Phoenix Fireworks and MLE Pyrotechnics will compete on Tuesday, while Selstar Fireworks, Pendragon Fireworks and Jubilee Fireworks will take part on Wednesday.
The competition will begin at 21:30 BST on both nights and the overall winner will be announced on Wednesday night.