Royal Navy survey ship HMS Echo returns to Devonport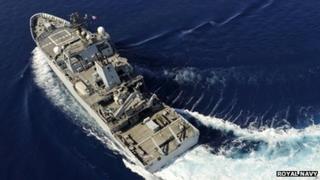 A Royal Navy survey ship will return to its home base in Plymouth later after a 19-month deployment.
HMS Echo, which specialises in oceanographic and hydrographic surveys, sailed about 74,000 miles during its 593 days away.
While at sea, the ship was involved in a "quick-draw" firing incident against a suspected Somali pirate vessel.
HMS Echo surveyed more than 3,150 square miles and took nearly 200 sea bed samples.
Its 13 ports of call included Bahrain, Dubai, Mombasa, Mumbai and Haifa.
Able Seaman Emily Gordon said: "For irony sense, the most interesting moment was skiing in Dubai at Christmas - having to bundle yourself up in ski clothing after spending the rest of the day in shorts, T-shirts and flip-flops."
During the deployment, its 46-strong company ate 6,058kg of beef - equivalent to about 20 head of cattle. Also, 600 litres of paint was used to maintain the ship.