Croyde lifeguards rescue 36 from surf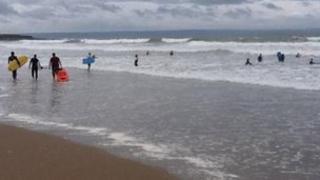 A large swell and strong rip currents led to 36 people being rescued from the sea at Croyde in Devon.
The rescues on Sunday were among a large number in Devon and Cornwall over the weekend as sunshine and good surf attracted thousands to the coast.
RNLI lifeguards also rescued nine people at Porthtowan in Cornwall.
Croyde lifeguards said "huge surf" and strong rip currents caught bathers out, including a family of three teenage girls, a teenage boy and two adults.
They were struggling in the conditions and had swallowed a lot of water, said lifeguards.
'Dangerous conditions'
The lifeguards paddled the casualties back to shore where they were checked by paramedics but they did not require further medical treatment.
Senior RNLI lifeguard Russell Harrison said: "There has been huge surf at Croyde with very powerful waves creating strong rip currents outside the red-and-yellow flagged bathing area.
"'The rescue water craft has been in the water for most of the afternoon advising people of the dangerous conditions and rescuing those who have been caught out by the swell and rip currents."
At Porthtowan on Saturday the RNLI lifeguard team rescued five adults and four children when a large set of waves swept bathers off their feet, forcing them into an area where there was a rip current.
RNLI lifeguards also rescued nine people at Challaborough in south Devon.