Plymouth Airport supporters hand petition in to city council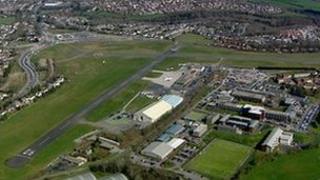 A petition calling for Plymouth Airport to be saved has been handed in to the city council.
The site closed in December after leaseholder Sutton Harbour Holdings said it was no longer viable following the economic downturn.
The petition, organised by the Viable Group, was given to council leader Tudor Evans at the city's Civic Centre.
The group said it had 37,000 signatures supporting the airport, which was vital for transport and business links.
Campaigner Maddie Bridgeman said: "We've got signatures from America, Japan, Dubai, [United] Arab Emirates, and the interesting thing is the highest concentration of signatures has come from the PL6 area where the airport is situated."
Commercial partner sought
Sutton Harbour Holdings took over operation of the airport in 2000 after being granted a 150-year lease from the city council, which owns the site in Roborough.
Flying stopped in July 2011 before its closure.
The airport's non-viability was accepted by the city's previous Conservative administration.
Glenys Bragg, who worked at the airport, said: "It was absolutely awful. We were like a big family at the airport.
"Life has been very sad since the airport closed, getting your head around the fact you wouldn't be going back. You feel very vulnerable."
During 2011, discussions were held by the council with 12 potential airlines and 17 airport operators but none of them wanted to invest in the project.
The new Labour council announced at the start of August that it was seeking a commercial partner to take over the site and run an airport.
However, the authority could not provide any subsidy, Mr Evans said.
The council said the site was protected under planning policy as an airport.
But it added that if the private sector could not reopen it, another use for the site could be explored.
Donna Farrell, who worked as a cabin crew member at the airport, said: "A gateway to London and the rest of the world has been closed off."
Plymouth City Council said: "We appreciate the strength of feeling there is about the airport and like Viable, we'd love to see an airport for Plymouth and welcome their efforts to rally support.
"Maybe the numbers who've signed the petition will persuade potential investors that there's interest from people living here in using an airport."