Corbin family plan Turin bike ride for depression awareness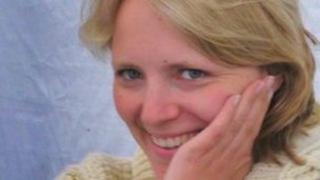 A family from east Devon are preparing to cycle 800 miles (1,287km) to Turin to raise awareness about depression.
Hugh and Pam Corbin, from Uplyme, say GPs need more time and support to help those with mental illness.
In January 2011 their daughter Philippa Corbin, 27, killed herself after suffering depression.
On 13 October, 28 cyclists will set off from Axminster on the Slow Ride to Turin to reach the food festival Salone del Gusto by 25 October.
Mr Corbin said: "It was an amazing, terrible shock when Philippa died and we knew she had been suffering from depression, but we had no idea how serious it was.
'Stretched resources'
"We think there's probably quite a weakness at GP level because they're so busy dealing with people's physical ailments they perhaps don't have time to give as much time as they'd like for people suffering from depression and other mental illnesses."
In the UK, it is estimated that up to 12% of the population experience depression and the World Health Organisation predicts that by 2020 it will be the second most common health problem after heart disease.
Psychotherapist Mike Beard said: "There's no doubt that we're now recognising and recording more instances of depression than we may have done previously.
"I'm sure many GPs would welcome additional resources, but I do think it's important to recognize all that is being done at a time when both funding and resources are being stretched."
Mr Corbin said: "She [Philippa] and I used to go to the slow food festival and she was just fascinated to see all the food from around the world.
"It's obviously left a big hole in our lives and it's something we won't ever get over."
The Slow Ride to Turin will raise money for The Human Givens Foundation and The Charlie Waller Memorial Trust, both of which help people with depression.