Breast screening urge after 15,000 Devon women miss tests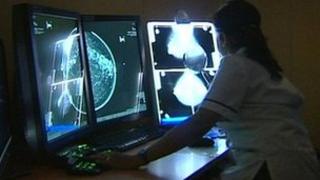 A cancer charity and doctors are urging women to attend breast screening tests after thousands of appointments were missed in Devon.
Breakthrough Breast Cancer has said those who fail to attend are reducing their chances of surviving cancer through early diagnosis.
More than 15,000 appointments were not attended during a 12-month period, health trusts have said.
Experts are unsure why women have not attended the screenings.
Rachel Greig, from the charity, said: "Work needs to be done to understand why some women in Devon are not attending.
"Ninety-seven per cent of women whose breast cancer is detected by screening will still be alive five years later because of early detection."
'Outcome better'
Dr Jim Steel, director of breast screening in west Devon and east Cornwall, said: "If you find a cancer by screening before you feel it with your fingers, the outcome is much better.
"Roughly speaking your risk of dying of breast cancer drops by half when you attend a screening."
Dr Steel said he was unsure why women were not attending but some women had said they were worried about how unconformable it could be.
In 2011/12, 13,349 women were invited for tests but 3,290 missed their appointments, South Devon Healthcare NHS Foundation Trust and Torbay and Southern Devon Health and Care NHS Trust said.
North and East Devon Breast Screening Service said in 2011/12, 33,556 women were invited for screening and 6,548 did not attend.
Plymouth Hospitals NHS Trust has said that in 2011, 27,561 women were invited for screening and 5,508 failed to attend their appointment.
All services and health trusts were above the minimum national level for breast screening uptake which is 70%.