Torbay NHS tops patient avoidable harm table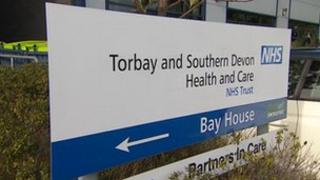 One in five patients at Torbay NHS Trust had a fall, bed sore or infected catheter between April and July.
Nationally just under one in 10, or about 41,000 people, were harmed according to a new NHS system of logging accidental events.
The Safety Thermometer, launched in April, gathers data submitted by all NHS providers.
Torbay NHS Trust said 25% of the local population was over 65 and more prone to these incidents.
Patient safety 'paramount'
The figures revealed that, among organisations surveying more than 300 patients, the five NHS trusts with highest rates of patients with avoidable harm were:
Torbay and Southern Devon Health and Care Trust (23.5% of patients)
City Hospitals Sunderland Foundation Trust (23.1%)
Airedale Foundation Trust (20.5%)
Sussex Community Trust (19.3%)
Chesterfield Royal Hospital Foundation Trust (16.9%)
These compare with a median rate of 8.9%.
Mandy Seymour, Torbay trust's chief operating officer, said: "We acknowledge the level of risk may be higher than the national average because a higher proportion of the population is over 65.
"We would expect to be slightly higher than the average.
"The most important thing is to identify the risk that people are under so we prevent these blood clots and falls and pressure ulcers.
"We encourage staff to report risks that patients are under.
"Patient safety is paramount."