Cornwall trawler crew rescued off Devon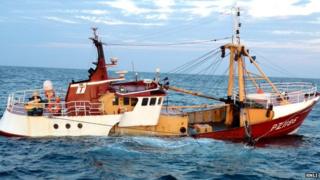 Five people have been rescued after a trawler sank off Start Point on the Devon coast.
The crew of the Penzance-based Chloe T told coastguards just after 16:20 BST that the boat was taking in water in the engine room.
The crew were forced to get into a life raft after the pumps failed and the boat sank.
They were airlifted by a rescue helicopter from RNAS Culdrose and were brought uninjured back to shore.
Brixham Coastguard watch manager David Colmer said: "The actions of this crew almost certainly resulted in them all being rescued from this dangerous situation.
"They called the coastguard at an early stage, all wore life jackets and took to the life raft when the situation on board deteriorated."
An RNLI lifeboat from Salcombe, a number of fishing boats and the ferry Armorique and a container ship also went to the scene.