'Maniac' driver Shaun Walker jailed over Chudleigh crash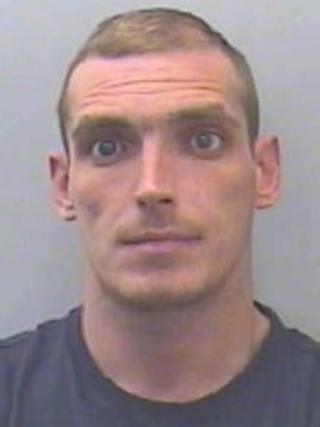 A "maniac" driver who lost control of his vehicle and crashed into a bridge in Devon, killing his passenger, has been jailed for six years.
Shaun Walker, 29, of Riverbank Road, Garston, Liverpool, admitted causing death by dangerous driving.
Exeter Crown Court heard he drove at 100mph on the A38 at Chudleigh in bad weather before hitting a bridge. His passenger, Steven Casey, 21, died.
A passenger in another car said Walker was driving like a "maniac".
The court heard that Walker accelerated to 100mph in his BMW M5 as he left Harcombe Cross garage last February at night and in torrential rain.
He then lost control and crashed into the overhead bridge.
Mr Casey, who was travelling in the back of the vehicle, was thrown from the wreckage and died at the scene.
'Outrageous and suicidal'
Walker and his front seat passenger escaped without serious injury, although none of those in the vehicle had been wearing seatbelts.
Malcolm Galloway, for the prosecution, said other drivers had slowed down because of standing water on the road.
Nick Holland, who was a passenger in another car, said: "I felt a whoosh as the BMW went past, going 40 (64) to 45mph (72kph) faster than us. I think it was being driven by a maniac.
"It was ridiculously fast and would have been dangerous if the road had been dry. In the wet it was outrageous and suicidal."
'Deliberate acceleration'
Judge Francis Gilbert QC said: "The road itself is perfectly safe if driven at a speed which takes into account the weather conditions.
"I look at this as deliberate acceleration in a very rapid car in very poor weather conditions."
Michael Bagley, defending, said Walker "had no intention of injuring anyone" and felt "dreadful and distressed" by the accident. He said Mr Casey's family had also written to the court, asking for clemency.
Exeter Crown Court heard that Walker had been uninsured at the time because he had told his insurance company the BMW was a two litre model rather than the five litre, which they would not have covered
He said he had five previous convictions for driving without insurance, two for driving while disqualified, and three for having no licence.