Bryan Harris: Murder accused 'betrayed' by girlfriend's affair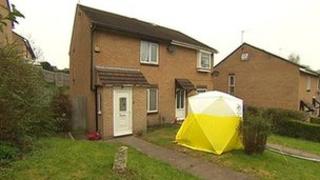 A stable hand accused of murdering his landlord has told a court he beat him after finding him naked and having sex with his girlfriend.
Bryan Harris, 45, told Exeter Crown Court he was "defending his dignity" as he punched and kicked Paul Drury.
He told the jury he "felt angry and betrayed".
Mr Harris, of Valley Path, Newton Abbot, denies murdering Mr Drury and causing Dawn Lewis grievous bodily harm with intent.
The prosecution told the court Mr Drury died from head injuries as a result of an attack in which he may have been battered with a frying pan which was found near his body.
'Giving a hiding'
Mr Harris told the jury he and his girlfriend had been living at Mr Drury's one-bedroomed maisonette for six weeks, sleeping in the lounge.
He said on the day of the killing he had been working at the stables at Ideford, near Chudleigh, and had picked Mr Drury up from the pub where he had been drinking heavily.
He said he then drank with Mr Drury in his bedroom and passed out but, when he awoke, he found Mr Drury and Miss Lewis having sex on the floor of the living room downstairs.
Mr Harris said: "I felt anger and hurt and heartbreak and frustration.
"I was fighting for my dignity and for my partner's dignity.
"It was a two-man fight at the start. I was giving him a hiding to say 'keep off my missus'."
Mr Harris said the punching continued for "another 10 to 15 minutes" but he had no idea Mr Drury was seriously injured.
He told the court he had no intention of killing him and was suffering a sudden loss of control during the attack.
He denied using the frying pan, saying: "I moved it during the fight but I did not use it as a weapon. I don't use weapons, I use my bare fists."
The trial continues.