Parking 'perks' for councillors in Torbay criticised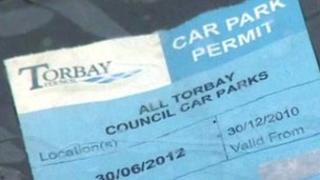 Parking "perks" for councillors at a Conservative-run authority should be scrapped, say opposition groups.
Torbay Council ended free parking for councillors and staff on 1 September.
Staff now pay £1 a day to park, which for full-time employees working 47 weeks a year is £235, but councillors can buy a £50 annual parking permit.
The Conservatives say it is fair because members are not paid, but opposition parties and the union Unison want the move scrapped.
Darren Cowell, of the Labour group, said the cut-price parking for councillors was wrong in times of austerity.
He said: "I have made it clear that I will not accept this Tory parking perk and I will join the staff scheme."
Steve Darling, leader of the Liberal Democrat group, said: "If it looks as if councillors are able to get a discounted deal compared with the rest of the people working for Torbay Council, it's immoral."
The Conservative group said in a statement that if councillors had to pay to park for each meeting they would then be claiming costs back on expenses every month.