Patients back after gas leak forced Exeter hospital evacuation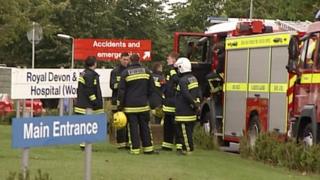 Two hundred patients who were moved to safety after a major gas leak outside the Royal Devon and Exeter Hospital have returned to their wards.
It is believed a mechanical digger being used by contractors damaged a gas supply pipe at the Princess Elizabeth Orthopaedic Centre.
A safety cordon was put in place, outpatient appointments cancelled and visitors asked to stay away.
Engineers from Wales and West Utilities have repaired the ruptured gas main.
The Royal Devon and Exeter NHS Foundation Trust said the hospital stood down its "major incident" status at 16:30 BST, but it has asked "non-essential" visitors to say away in order for them to help re-settle the patients.
Angela Pedder, the trust's chief executive, said staff had responded to the incident in a professional and effective way and patients were well cared for.
"We apologise for the disruption this may have caused for outpatients and visitors but appreciate their co-operation with the safety measures we put in place," she said in a statement, adding that the priority was to "resume business as usual as soon as possible" from Wednesday.