National Trust reduces Plymbridge Woods cycle trail plan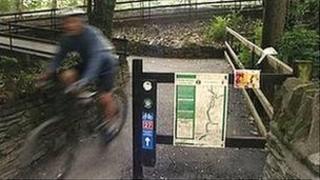 The National Trust has scaled back its plans for an off-road cycle route through woods near Plymouth after concerns that it would damage the area.
A plan for nine miles (15km) of trails through Plymbridge Woods has been cut to 2.5 miles (4km) and a planned cafe and bike hire facility moved.
The charity said the changes were "the right thing to do" to ensure "the impact was not as great as it was".
The plans will go to Plymouth City Council within a week.
The new route will be graded blue, suitable for families and young children.
'Understandably concerned'
The trust said it would link to route 27 of the National Cycle Network "whilst not impacting unduly on other users of the woods".
The trust is already consulting on further trails at its Lanhydrock property in Cornwall and for a BMX track at Marsh Mills near Plymouth.
A spokeswoman said: "There were some local people who were understandably concerned about what we were doing. That's why we have reduced it.
"The difficulty is to please all the people all the time. Some people will want a more extreme trail and some not at all, but we believe it is the right thing to do for Plymbridge."
Cyclists looking for more challenging trails can still ride on Forestry Commission land at nearby Cann Woods.
Plans for a cafe, toilets and bike hire have been moved to nearby Coypool after a covenant emerged stopping development at Plymbridge.
Development of the cycle trail and car park will be funded by the trust and the government through the Rural Development Programme for England.