Totnes in triple scoop at Good Funeral Guide awards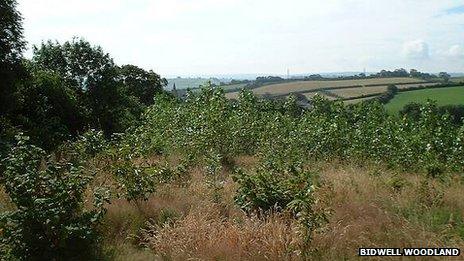 A Devon town has scooped three top honours in the Good Funeral Guide Awards.
It is the first time the not-for-profit independent guide has run the UK-wide competition, with members of the public voting in a variety of categories.
And three of the 14 awards were won by companies from Totnes - a town probably best known for its "alternative" and artistic image.
Bidwell Woodland Burial was named as Cemetery of the Year, while Simon Smith and Jane Morrell and Rupert and Claire Callender were joint winners in the Best Funeral Director category.
All three winners are small, independent companies which were set up in the Totnes area in the late 1990s.
The funeral directors said although they could not definitively explain why the south Devon town had produced three winners, they agreed there was a "Totnes factor" at work.
Mr Callender, who runs the Green Funeral Company with his wife at Dartington Hall, described Totnes as a "clearing house" for new social ideas, while Ms Morrell of Green Fuse said the town had a "can do" attitude and was more willing to "break the social norm".
'Courage and inspiration'
Both companies agreed the key was to listen to bereaved relatives and provide them with as much information as possible to help them choose the type of funeral they wanted.
"Not everyone wants the 'traditional' type of funeral and I think people like to know there are other ways, so it's all about choice and family involvement, with the ceremony at the forefront," Ms Morrell said.
Her partner Simon Smith said with many excellent funeral directors serving families across the country, it was a "huge honour" to be chosen for the award.
"It is a testament to the families we have served... for their courage and inspiration to make the funeral just as they want it to be."
Mrs Callender also paid tribute to the people who voted for their "simple and appropriate" funerals.
"This award really belongs to all the families across Devon and Cornwall who have taught us how to do this over the years - it has been a privilege to stand beside them," she said.
Mr Callender said Totnes may be known for its alternative image, but the company's funerals were not alternative but "real".
"We're not catering to the hippy middle classes - we're here to help families, listen to them and involve them as much as possible so they know there are a lot more choices and can find something that suits them personally," he said.
Meanwhile, Andrew Lithgow who runs Bidwell Woodland Burial, where graves are scattered between trees in a woodland, said he was "at a loss" to explain why three Totnes firms should come out on top.
"I don't know - it's really hard to tell, but perhaps people are gradually learning that there a lot more choices now," he said.
Charles Cowling, editor of the Good Funeral Guide, said there had been 149 nominations for the awards which were for the "unsung heroes of astonishing brilliance in a much misunderstood industry".
Related Internet Links
The BBC is not responsible for the content of external sites.