Hartley Service Station in Plymouth stops selling fuel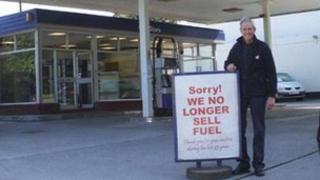 One of the last independent petrol stations in Plymouth has stopped selling fuel.
Roger Chapman, owner of Hartley Service Station on Mannamead Road, said he could no longer compete against supermarket fuel prices.
He said he had had to make four staff redundant as a result of closing that side of the business.
The forecourt would be used for car sales and the business would continue to offer repair services, he added.
Sales volume 'disappeared'
Mr Chapman, 68, who has run his business for 45 years, said stopping fuel sales was "very tearful".
He said: "We saw a lot of really nice people but the volume just disappeared. It's no longer viable."
Mr Chapman said he made only 3p on each litre of fuel sold, which was reduced to 1p a litre on company fuel cards; and that he was charged 1.25% on credit card transactions.
He added supermarkets were "really, really, very good merchandisers".
He said: "Retailing, you cannot beat them. The technology and the psychology that they use, they are absolutely brilliant."
Mr Chapman added he thought more rural fuel stations would only survive if they diversified, such as running a shop.