Plymouth 'delight' at Jonathan Tiernan-Locke's Tour of Britain win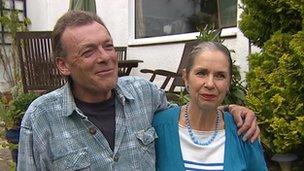 The parents of the Plymouth cyclist who won the Tour of Britain race say they are "absolutely delighted" at his achievement.
Jonathan Tiernan-Locke, 27, became the first British rider to win the Tour of Britain in 19 years.
His parents, Chris and Marysia Tiernan-Locke, said: "It's the most wonderful achievement for him."
They added that he could expect a "pop star welcome" when he returned to the city.
After his win, the couple said his victory was "a relief after an ordeal".
His father said: "It's been an ordeal because we've been sitting on the edge of our seats for the last week, watching everything on television."
His mother added: "We were also fearing crashes, punctures and all those things that can happen."
The couple did manage to cheer him on in Dartmoor on Saturday during the seventh stage of the race.
His father said that trying to get in contact with him was "a bit like trying to get in touch with a pop star now".
However, the couple added they expected their son to succeed as a professional - after one race as a youngster when he carried his bike up a mountain.
Mr Tiernan-Locke said: "He did a mountain race when he was a little boy, and his chain broke on the third lap, and he still had several more to go.
"He picked the bike up on his shoulders and he carried it and ran with it for the rest of the race.
"Although he came in after everyone else, it was as if he had won the race.
"The guy commentating said he could not believe the tenacity and courage of this boy who would do anything to finish that race."
The cyclist's win is another sporting victory for the city this year.
City-born Team GB diver Tom Daley won a bronze medal during the Olympics.
He will be among several Olympic competitors who will be taking part in a homecoming parade in the city next Wednesday.
Related Internet Links
The BBC is not responsible for the content of external sites.