Tour of Britain 'boosts Devon's economy by millions'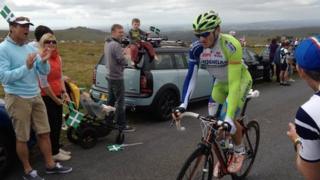 The Tour of Britain will have added millions of pounds to Devon's economy, a county councillor has said.
The 170km (105-mile) stage ran from Barnstaple in north Devon, to Dartmouth on the south coast and included Dartmoor, Tavistock and Kingsbridge.
Stuart Hughes said record crowds this year indicated the economic boost would be more than the £3m in 2011.
Dartmoor National Park Authority said more people visited the area on Saturday than during the entire summer.
Local winner
Kevin Bishop, the park authority's chief executive, said the "fantastic" race stage really helped to put Dartmoor "on the map".
"Let's hope they come back with their bikes and follow in the footsteps - or wheels - of the cyclists," he said.
"It's been fantastic and there's been a real buzz about the place."
Mr Hughes said the event helped to showcase Devon as a "premier cycle county" and there had been record crowds throughout Devon - with an estimated 50,000 in Dartmouth alone.
"It does so much for our economy," he said.
"Last year it brought in about £3m and this year I think it's bound to exceed that.
Mr Hughes said the fact that a local boy - Plymouth's Jon Tiernan-Locke, who won the overall tour - was a real contender before the Devon stage, helped to boost spectators.