Ryan King murder: Raymond Dupree 'killed disrespectful nephew'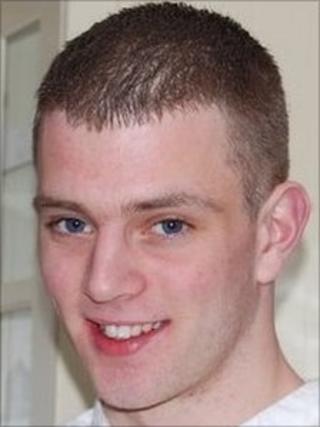 A 20-year-old man was killed by his great uncle for not respecting his elders, a court has been told.
When Ryan King tried to defuse a row over music at a family party, 68-year-old Raymond Dupree stabbed a wine glass into the young man's throat.
Mr Dupree, of Bishop's Nympton, Devon has denied murdering Mr King at Snurridge Manor House, near South Molton, in August 2011.
The trial at Exeter Crown Court is expected to last for 10 days.
The court heard the party, to celebrate Mr King's mother's 40th birthday, had gone well until a dispute arose at about 03:00 BST over a group of girls aged 13 and 14 who were playing music.
Simon Laws, QC, prosecuting, said Mr Dupree ordered the girls to turn the music off and when he became aggressive, Mr King intervened.
Mr Dupree told him he "should respect his elders" before launching his attack with a wine glass which had been left on a table.
Despite efforts by guests and then paramedics and doctors to close the wound on Mr King's neck, he died in North Devon Hospital from a loss of blood.
The court was told Mr Dupree's actions were motivated by anger and pride and the victim had lost his life "quite needlessly".
"His death was the product of this defendant's bad temper and his pride," Mr Laws said.
Blood evidence
Describing the dispute as "trivial", Mr Laws said Mr Dupree had "grossly overreacted" with violence.
"[Mr Dupree] believed Ryan owed him respect and it was disrespectful to stand up to him," Mr Laws said.
"He overreacted to a trivial situation in which there was no danger of any harm to him."
The court was told Mr Dupree left the house and was arrested as he walked home down a country lane.
Mr Laws said Mr Dupree cut his hand on the glass and forensic experts found both the victim's and the accused's blood on it.
The trial continues.