Cafe Mambo brands Torquay wheelchair man a safety 'hazard'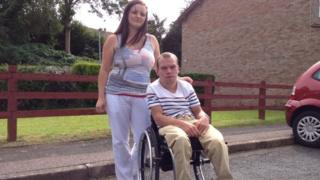 A man has spoken of his disgust at being branded a health and safety "hazard" because he uses a wheelchair.
Door staff refused Luke Kenshole entry to the first floor of Cafe Mambo in Torquay, Devon, on Saturday.
"What's the point of being inspired by the Paralympics if you can't go out for a drink with your mates," he said.
But Lifestyle Hospitality Group which operates the venue said safety was paramount and staff had acted in an appropriate manner.
Mr Kenshole, 29, from Paignton, was with a group of nine able-bodied friends, including Emily Rookes, who told the door staff they would be responsible for him and were happy to carry him up and down the stairs.
"They told him he was a health and safety hazard and he couldn't go upstairs," Ms Rookes said.
"But even if they'd had a lift, you wouldn't be able to use it if there was a fire."
Mr Kenshole said the door staff should have treated him with dignity.
"They should have taken me aside and explained it discreetly instead of shouting it in public that I was a safety hazard," he said.
"I understand they had their reasons, but they're unacceptable in my eyes and the manner in which they conducted themselves was unacceptable - I think I deserved to be treated with dignity.
"I'm nearly 30, I'm used to going out and I'm quite confident, but if someone disabled who's just started to go out socially, something like this could really knock their confidence."
Policy review
A spokesperson for Lifestyle Hospitality said Mr Kenshole was not "refused entry", as he was told he could be accommodated in the club's ground floor Beach Hut, which has disabled access and facilities.
But Mr Kenshole said the Beach Hut was just a bar.
"There's no music downstairs and we'd been out for a meal and wanted to have a bit of a dance," he said.
"I've been to nearly every club in Torbay and never had problems before.
"Not many nightclubs have disabled facilities, but my friends are always willing to go the extra mile for me - and I trust them with my life.
"Surely I'm no more a risk than someone who's completely intoxicated."
Apology offered
A statement from Lifestyle Hospitality said: "Whilst we want to welcome all our customers and give them a good experience, we have to be mindful of their comfort as well as health and safety issues.
"Our ground floor Beach Hut has disabled access and facilities but regrettably because of the layout and age of the building on four floors and several more levels, we are unable to install a lift to higher levels.
"We believe our staff dealt with the matter appropriately and responsibly. If Luke feels he had a negative experience at Mambo, then we apologise. But the safety of all our customers is paramount."
Mr Kenshole said it was unlikely he would return to Cafe Mambo.
"I really don't want this to have a negative effect on Mambo's business, because it's supposed to be a great venue, but I would very much like them to review their policy," he added.