Leaderflush Shapland to stop Barnstaple door making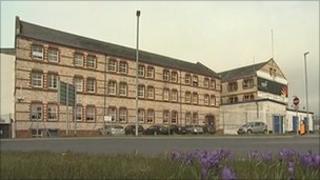 Door manufacturing in a Devon town is to stop at the end of November, with the loss of about 75 jobs.
The Leaderflush Shapland factory, originally established in Barnstaple in the mid-1800s, used to be one of the town's biggest employers.
The Laidlaw Interiors Group, which took over the business in August last year, said it had been unable to find a "commercially-viable solution".
However, it said some sales staff would remain on the site.
'Known for quality'
Kevin Norman, from the GMB union, said although workers "knew it was coming", it was very bad news for the site.
"There are very few people who work at Leaderflush Shapland who haven't worked here for 30 or 40 years," he told BBC News.
"It's been here for more than 150 years and its known for its quality."
Mr Norman said the union would work with management to ensure its members received their redundancy entitlements, but there was little it could do to find alternative employment for them.
"There's not many jobs in north Devon," he explained.
In 2009, the factory said it had been hit hard by the recession and was struggling to compete for orders.
It axed nearly half of its 300-strong workforce and reduced the working week from 38 hours to 30.
Laidlaw Interiors said it had "looked at all options" to maintain door manufacturing in Barnstaple.
"Unfortunately we have been unable to find a commercially-viable solution and are now consulting with our employees over the potential closure of the factory and the transfer of manufacturing to our other sites," a statement said.
Chief Executive John Jefferies said he personally wanted to thank the Barnstaple employees "for their pride, loyalty, professionalism and commitment".