Uniforms return at KEVICC in Totnes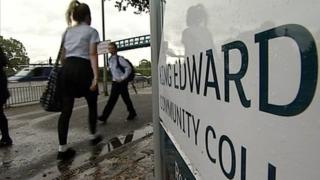 Pupils at a Devon school have arrived for lessons wearing uniforms after months of controversy over plans to reintroduce them.
King Edward VI Community College in Totnes abolished uniforms in 2003 but recently decided to change its policy.
Some students have been disciplined with "internal exclusion" for staging protests against the decision.
It has been reintroduced following a report which found the school - known as KEVICC - was perceived as "scruffy".
The move followed consultation with parents and pupils which the secondary school said produced "clear voices both for and against uniform".
It said governors weighed up the arguments and voted for a uniform to:
Protect some families from the pressure to buy and wear designer fashion to college
Promote a sense of belonging and community as well as a strong, cohesive college identity that supports high standards
Provide a more manageable code for staff to manage
Pupils opposed to the changes staged protests - including waving banners and walking out of lessons - on 2, 3 and 4 July.
Some students taking were disciplined with "internal exclusion".
Devon County Council said: "We very much hope that the college can work closely with all students and parents to sort out and resolve any difficulties with students wearing the uniform at the earliest opportunity, particularly if there have been any initial problems in buying the uniform."
The 450-year-old school, known as KEVICC, includes a sixth form and a performing arts college. It recently got a "satisfactory" rating from Ofsted.