Ryan King murder accused 'said fatal row was family fall-out'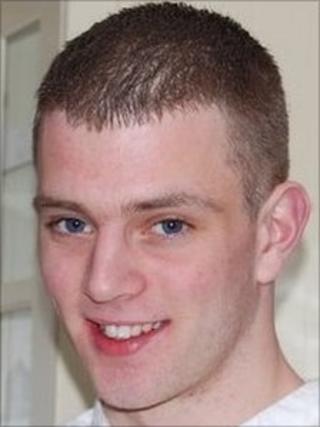 A man accused of killing his great nephew by stabbing him with a wine glass said it was "just a family fall-out" when arrested, a court has heard.
Raymond Dupree, 68, of Bishop's Nympton, Devon, denies murdering 20-year-old Ryan King at Snurridge Manor House, South Molton, in August 2011.
Mr King's jugular vein was severed and he died in hospital from blood loss.
PC Graham Janes told Exeter Crown Court Mr Dupree claimed he did not mean to hurt his relative.
The murder trial had previously been told by witnesses that Mr Dupree attacked Mr King for "disrespecting" his elders after the younger man tried to intervene in a row his uncle was having with some young teenage girls over loud music.
Blood splatters
Giving evidence, PC Janes said Mr Dupree had blood splatters on his clothing and blood dripping from his hand when he came across him in a country lane on his way to the Snurridge House emergency call.
Mr Dupree told PC Janes he had been involved in a family falling out and was arrested on suspicion of causing grievous bodily harm.
The Devon and Cornwall Police officer said while he was being taken to North Devon District Hospital for treatment to a cut hand, Mr Dupree said he did not deny hitting Mr King.
"He said 'I think I've got more of a cut than he has'," PC Janes told the court.
When he heard his niece screaming in another hospital room, Mr Dupree turned to the officer and said: "I haven't killed [him] have I - I did not mean to do that".
PC Janes said when Mr Dupree was told he was being arrested for murder, he put his head in his hands and said it would be the "end" of him.
The trial continues.