Murder accused Raymond Dupree had 'no memory' of glassing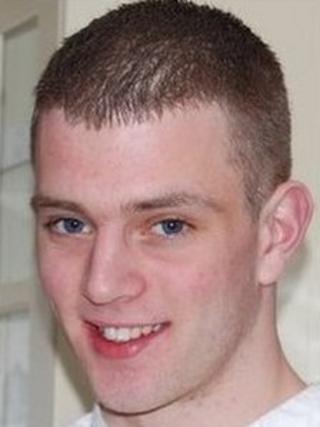 A former amateur boxer has told a court he was acting in self defence when he fatally injured his great nephew with a champagne glass at family party.
Raymond Dupree, 68, who has denied murder, said he intended to punch Ryan King on the chin and had no memory of having a glass in his hand.
The 20-year-old's jugular vein was severed and he died later in hospital.
Mr Dupree, of Bishop's Nympton, told Exeter Crown Court he did not know his relative was injured.
He said he struck out because he believed Mr King was about to hit him during an argument he was having with a group of teenage girls over loud music.
'Right hook'
Mr Dupree and Mr King were among 30 guests at Snurridge Manor House in South Molton on 20 August, 2011.
The prosecution has claimed Mr King was attacked for "disrespecting" his elders when he tried to stop his "angry" uncle bullying the girls who were were still playing music at 03:00 BST.
But Mr Dupree has said it was an accident and he acted in self defence.
Despite suffering a cut hand from the broken glass which needed five stitches to repair, Mr Dupree told the jury that he had no recollection of picking up or holding the glass.
Asked by defence counsel Adam Vaitilingam QC what he recalled from the party, Mr Dupree said he had told some children to go to bed.
Perceived 'threat'
When Mr King later challenged him, talking in a "sarcastic" manner, Mr Dupree said he offered to take the row outside.
"I said 'get outside' because whatever he said to me I took it as a threat," he told the court.
"He took half a step towards me, so I got up and hit him with a right hook.
"I was aiming for his jaw and my blow landed. He staggered a bit and fell down."
Mr Dupree said he was told to leave the party, but when he did he was unaware of his great nephew's injury.
Under cross-examination by Mr Simon Laws, QC, Mr Dupree repeatedly said he could not remember picking up or holding a glass and insisted he had not "glassed" the victim.
The trial continues.