Devon residents face paying for road completion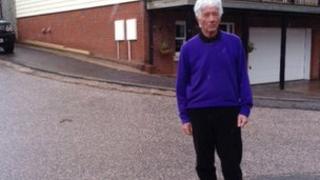 Residents on a Devon estate fear they may have to pay to finish building a road after two councils were found to be under no obligation to do the work.
The road on the Fair Oak new estate in Teignmouth was left uncompleted in 2006 after the developer went bust.
Residents blamed Teignbridge District Council and Devon County Council for the uncompleted mess.
But an ombudsman said councils were not obliged by law to pay for building roads serving new housing developments.
'Have little faith'
Resident Ray Knapp said: "It's been an absolute nightmare. I really wish I hadn't moved here from the stress point of view.
"I have been waiting for over six years for them to do something about it and they haven't done anything, so I haven't got a lot of faith in them."
Residents have expressed concerns over whether they would have to pay for the work to be completed themselves.
Examining the case, Local Government Ombudsman Dr Jane Martin said: "I have found no evidence of maladministration by the county council and the fault by the district council was limited.
"In those circumstances, I cannot recommend the county council meet the costs of the necessary works, and do not consider it appropriate to recommend that the district council do so."
Teignbridge District Council said it had not properly notified the county council about building regulation approval being given for the site.
Teignbridge was the planning authority, and the county council the highways authority.
"We did fall short of the very high standards our customers are entitled to expect," Teignbridge Council said in a statement.
Teignbridge finance director Simon Barnes said: "The real problem is that the developer went bust halfway through the process of building the houses and the road, and we are going to be working with the residents and the county council to resolve this issue."
A Devon County Council spokesman said: "We are pleased with the decision, but the priority now is to work with the district council and residents to resolve the situation."