Blaze at Totnes' 17th Century Royal Seven Stars hotel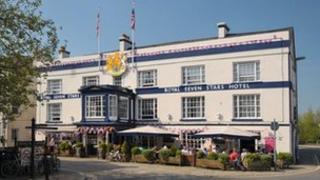 Fifty firefighters have tackled a fire at a 17th Century hotel in Totnes, Devon.
The alarm was raised just before 22:00 BST on Saturday after a fire started in the kitchen of the Royal Seven Stars hotel and spread to the ballroom.
The building was evacuated and 35 guests were moved to alternative accommodation at the Grand Hotel in Torquay.
No-one was injured and firefighters quickly contained the blaze.
A spokeswoman for the hotel, which was built in 1635, said she was "very relieved no-one was injured".
"It's business as usual today - but obviously with no food," she said.