Portuguese man-of-war found by Northam Burrows dog walker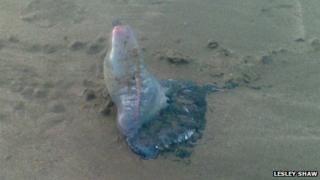 A dangerous Portuguese man-of-war has been found on a beach in north Devon for a second time.
The distinctive jellyfish-like creature was spotted by a dog walker on the beach at Northam Burrows, near Westward Ho!
Earlier this month, volunteers taking part in a beach clean at Westward Ho! found one of the creatures on a rock.
The Marine Conservation Society (MCS) said there have been recent sightings in Ireland, south Wales and Cornwall.
Although a man-of-war looks like a jellyfish, it is made up of tiny marine organisms working collectively as one animal.
Stings are extremely painful and, in very rarely, can be lethal.
Lesley Shaw, who found the man-of-war on Saturday morning, said: "They're very distinctive, so although I hadn't seen one before 'in the flesh', I knew what it was."
The Portuguese man-of-war normally lives in warm seas off Florida Keys, the Gulf of Mexico, Indian Ocean, Caribbean and Pacific, but winds and currents can bring it to UK waters.
Anyone who sees one of the creatures should report it to the MCS online, preferably with a picture.