Rivers Taw and Torridge pollution targeted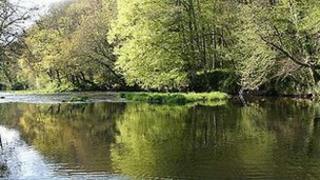 Work to improve water quality in two rivers and reduce pollutants reaching beaches in north Devon is to begin.
The projects, which include a £1.8m restoration of the River Taw, aim to reduce run-off from fields and urban areas into the Taw Torridge Estuary.
Experts believe water from the estuary's sewage overflow pipes and heavy rain have also affected quality.
South West Water said quality failings this summer at nearby Instow Beach were not connected to its overflows.
The three projects to improve the area are:
The Taw River Improvement Programme, which is being funded by the Environment Agency (EA), aims to reduce phosphates and run-off into the rivers by advising land owners.
A nature improvement area aims to protect and enhance the wildlife and ecosystems in the area.
Catchment Sensitive Farming will encourage land owners to reduce the amount of pollutants entering the rivers.
Jonathan Ponting, from the EA, said beaches such as Instow, which sit at the end of two big rivers - the Taw and the Torridge - can be affected.
"When it rains pollution runs off the land and down into rivers and down to the beach.
"Pollution standards across the South West have improved over the last 20 years. This year we have seen a blip because of the saturated summer that we've had."
Mr Ponting added that bathing quality can be affected by sewage overflows and increasingly by pollutants from the land such as animal waste.
A spokesman from SWW said: "This year has been the wettest summer for 100 years. Despite the conditions this summer, only two out of 18 samples taken so far by the Environment Agency at Instow have failed the standards.
"We've checked the two failing samples against data showing when our overflows operated, and they did not operate at the times when these samples were taken."