Twitter 'ban' for Topsham PCSO 'to go back online soon'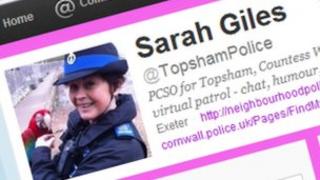 A Devon police community support officer (PCSO) banned from Twitter over posts about students is expected to be online again "in the relatively near future", a senior officer says.
Exeter-based PCSO Sarah Giles, tweeting as @TopshamPolice, posted messages about student "mayhem" in the area.
Devon and Cornwall Assistant Chief Constable Chris Boarland said the force would intervene if it had concerns.
But he added that he was hopeful the PCSO would be back online soon.
'Stereotype reinforcement'
PCSO Giles has more than 1,000 online followers for her updates about everyday life on the beat.
On 19 September, she tweeted "Off to work in an hour - more student mayhem".
Concerns were then raised by the University of Exeter Students' Guild about that and other recent comments she made about students in the city.
The guild said it was concerned about "the reinforcement of negative stereotypes".
On Tuesday, the PCSO tweeted that she was "told to close the account and stop tweeting. It upset me very much".
Devon and Cornwall Police said she was not banned from posting, but was to undergo "training".
Mr Boarland said it was "more than entirely possible in the relatively near future" that she would be allowed to tweet about her work again, although he could not give a time-scale.
He said that "anyone is free to use social media".
He added: "But there are some cases where, as an organisation, Sarah and others and me are on as representatives of Devon and Cornwall Police, so it's only right that we intervene - and we will.
"No-one is going to be banned from using social media, but there obviously needs to be guidelines around it.
"She was doing a fantastic job on Twitter, and, hopefully, that will be continuing shortly. It's a local management issue."
A Twitter campaign supporting the PCSO - #FreeTheTopsham1 - has been started by Exeter Labour councillor Paul Bull.