Twitter ban Topsham PCSO back online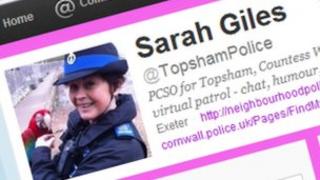 A Devon police community support officer (PCSO) banned from Twitter over posts about students is tweeting again after meeting her supervisor.
PCSO Sarah Giles had posted messages about student "mayhem" in Exeter and university students complained.
She said on her blog she had discussed the "pit falls" of social media with her supervisor.
Devon and Cornwall Police said some officers "may need guidance" on social media.
'Overwhelmed by support'
PCSO Giles, tweeting as @TopshamPolice, said on her blog: "The key to learning from experience is trust, support and feedback.
"A really positive (I know, I know but honestly, trust me, it's the right word), supportive and understanding discussion with my supervisor has resulted in my twitter and facebook accounts being unsuspended/reinstated/given the go ahead to resume.
"Basically I can start boring you to tears with jokes about fowl play by geese on the estuary again! Whoopppeee!!"
She added: "We talked about the pit falls and the positives of social media as a public engagement tool for an organisation like the police.
"In a week with so much more important events in the news we have been overwhelmed by the level of support for social media as a Police engagement tool in general, as well as support for @TopshamPolice in particular."
Devon and Cornwall Police said: "We genuinely recognise the value of social media as a way of communicating with various communities and occasionally staff and officers may need some guidance on how to use it in the most effective way.
"We will continue to use this exciting medium."