Hotel chain preferred bidder for Exmouth Elizabeth Hall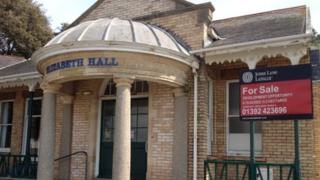 A seafront Victorian building is set to become a hotel after the Premier Inn group was named as preferred bidder.
In May, East Devon District Council's decision to sell Elizabeth Hall in Exmouth prompted a protest march and a 12,000-signature petition.
Two other bids, including one from the Friends of Elizabeth Hall, were considered but rejected by the council.
"We worked our socks off to save it for the community, so we're devastated," Friends spokeswoman Jilly Green said.
If the Friends bid had been successful, Elizabeth Hall would have become a community arts and visitor centre.
Mrs Green said it was unlikely the Friends would give up their fight.
"We're so devastated we can't think straight. It's hard to know quite how to proceed, but we're meeting later to discuss the way forward."
'Vital boost'
The council said Premier Inn, part of the Whitbread group, scored highest against a range of set criteria, which included economic impact, design and regeneration potential.
"Having studied all the proposals carefully and listened to what each of the bidders had to say, we are convinced that Premier Inn provides the best deal for Exmouth in terms of taking on this important site," said Councillor Andrew Moulding, chairman of Exmouth's regeneration board.
Insisting that the council had not simply gone for the "highest price", Mr Moulding said he believed Premier Inn offered the "best modern interests of the whole town".
The Premier Inn's proposal is for a three-storey building, rising to four storeys in one section with 60 rooms.
A ground-floor licensed cafe-restaurant that will be open to non-residents is also planned.
The council said it would now work with Premier Inn to refine its proposal before a detailed planning application is submitted - probably about February next year.