Plymouth NHS trust wrong over staff pay: GMB union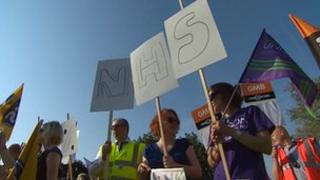 A Devon hospital trust is going the "wrong way" in trying to solve its financial difficulties, a union said.
The GMB said, while speaking to Derriford Hospital staff. that possible pay cuts were not constructive.
Plymouth Hospitals NHS Trust, which runs Derriford, said it needed to save £45m over three years and spends £234m on wages each year - 60% of its budget.
Plymouth is one of 20 trusts in the South West Pay Consortium, which is discussing introducing regional pay.
'Constant pressure'
Bringing in this scheme in south-west England was suggested in a leaked document in June and would replace the current NHS national pay bargaining model.
But staff at the hospital said they believed it would lead to salary cuts of up to 20%, as well as affecting holiday and sickness benefits, and have staged protests against it.
Rehana Azam, from the GMB, said: "We've been in a three-year pay freeze and we've taken cuts in our pensions.
"We're constantly having to do a lot more for a lot less and the pressures are constantly there.
"Our members very much recognise that the challenges affect us all, but this is the wrong way to go about these things."
The trust said rates of pay had not yet been discussed and the consortium would report back at the end of the year.
'Quite quickly'
Ann James, chief executive of the Plymouth trust, said: "On our staff costs, if we did nothing else - the same staff working in the same way with the same issues - that would cost us £7m more next year.
"We need very carefully and quite quickly, but thoroughly, to work with our staff about how we might address some of those gaps."
The government is considering introducing regional pay for public sector workers as it believes salaries in some regions are higher than the true market rate and so the private sector struggles to compete for staff.
If approved, the south west of England could be among the first areas in the country to have it introduced.