Devon floods: Mother and daughter rescued from tree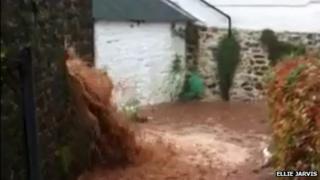 A woman and her 13-year-old daughter have been rescued from a tree after their car was swept away by flood water.
Devon and Somerset Fire and Rescue Service said the girl called for help at 19:15 BST on Thursday after the car was washed off the road near Sheepwash.
It wedged against a tree and the woman and girl had to climb through the sun roof on to the tree to escape.
Fire crews, a helicopter and specialist ambulance team were involved.
It is not known if either the mother or daughter were injured.
'Perilous danger'
The fire service praised the "vital information" given by the girl which allowed the emergency services to find the pair in the rural location.
When the first fire crew arrived, the car was completely under water and the mother and daughter were stranded on the tree.
Crews used an inflated hose line to support their "precarious" position.
A helicopter crew from RNAS Culdrose attempted to winch the mother and daughter to safety, but the tree canopy made it impossible.
A specialist rescue team from Barnstaple, supported by the South Western Ambulance hazardous area response team (HART), used a rescue boat to reach the stranded pair.
Martin Davis, the fire service's specialist rescue advisor, said the "time critical" rescue had been carried out successfully in dark and difficult conditions.
"This was truly a multi-agency response, involving the military helicopter, the HART response crew and the fire service with a united and common aim to save a mother and daughter in perilous danger."
Heavy rain on Wednesday caused flash flooding in several parts of Devon, including Holsworthy, Tiverton and Parracombe. The coastal town of Clovelly was the worst affected, with a number of homes flooded.