Britannia cadets 'pride of Britain' says prime minister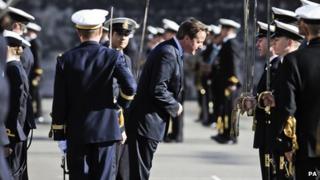 The prime minister has taken the salute at a passing out parade at the Britannia Royal Naval College.
David Cameron was at the college in Dartmouth, Devon, to take the salute from 70 officer cadets who have completed a 30-week training programme.
He praised the military's role in defending the UK and said nothing made him prouder than the armed forces.
"You are the pride of Britain, and to share this moment with you today is very special," Mr Cameron said.
He also told them the Royal Navy was "absolutely fundamental" to the security of Britain as an island nation.
'Greatest history'
A total of 250 Royal Navy cadets were involved in the ceremony in Dartmouth. One cadet fainted, but it was out of view of the prime minister.
Commanding Officer Captain Jerry Kyd said the cadets had displayed "commitment and courage" during a demanding training course.
In a speech to the cadets and their families and friends, Mr Cameron described his personal gratitude to the armed forces.
"As prime minister I get to spend quite a lot of time with our armed forces, and I can just tell you this - there is nothing that makes me more proud of our country, of what we stand for in the world, or what we are capable of doing, than our armed forces," he said.
Mr Cameron also revealed he had his own "keepsake" of Britain's military heritage in his Downing Street office - a shell casing from HMS Liverpool.
"It was the last fired in anger in the Libya campaign, and it is a permanent reminder to me of the Royal Navy and its work to defend freedom," he said.
Mr Cameron told cadet: "You are quite simply becoming part of the Navy with the greatest history in the world.
"It is a vital part of our heritage - our ships, submarines and naval air squadrons carry battle honours that literally span every part of the planet."