Cremation reveals WWII veteran's shrapnel in leg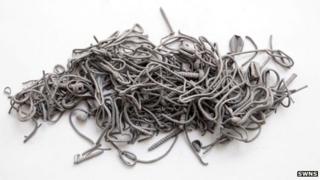 The family of a World War II veteran have found out just how injured he was after about 6oz (170g) of shrapnel was found following his cremation.
Ronald Brown, who died last week aged 94, was injured in an explosion while serving in France in August 1944.
Medics left the shrapnel in his left leg as it was near an artery and thought it was safer.
His family said his only complaint about his injury was when he asked children not to sit on his knee.
'Careful with me bullet'
Hull-born Mr Brown served with the East Yorkshire Regiment.
After the war, the Inland Revenue employee later moved to Exeter with his wife.
His daughter, Jane Madden, said the metal fragments showed "how brave he was".
She said: "We were told he just had a bullet in his leg, because he would tell us: 'Careful with me bullet, it hurts'."
Staff at the crematorium in Exeter gave the shrapnel to Mrs Madden after the family requested it - not expecting a bag of metal fragments.
Mrs Madden said: "It sounds macabre, but, after he died, we asked for what we thought was the bullet because my three daughters asked if we could just keep it as memento.
"We then got handed this bag of stuff."
Richard Powell, from the Federation of Burial and Cremation Authorities, said most coffins were built using screws and staples and some of these could have remained after a cremation.
'War hero'
Mrs Madden said the shrapnel did not seem to affect her father's mobility, although she added that it was a "long recovery" from his injures.
She said: "He used to have a stick while he was recovering from his injuries, but it [the shrapnel] only seemed to affect him in cold weather.
"I don't think he knew how much was in his leg. He didn't see it.
"The medics just said it was too close to an artery and stitched him back up again."
The discovery had also reinforced the family's pride in their own war hero, she added.
"At the time, we'd go: 'Oh, no. It's another war story', if he started telling us a story. But there's a lot of pride in the family about his service now," she said.