Rail franchise row 'threatens Great Western improvements'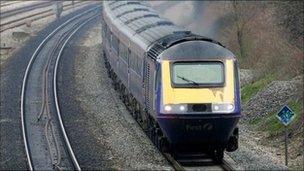 The West Coast Main Line rail franchise row could mean a two-year delay to any train improvements in the south west of England, a passenger group has said.
A decision to award the line to FirstGroup was scrapped because of "technical flaws" in the bidding process, which are being investigated.
Bidding for all British franchises is on hold while a review is carried out.
Questions are now being asked about knock-on effects to Great Western area, Travelwatch Southwest said.
FirstGroup was to take over the West Coast contract from Virgin, but the government has announced a review of what went wrong. It is looking at all franchise bidding processes.
First Great Western runs Great Western services between London, the west of England, south Wales and parts of the Midlands after taking on the franchise in 2005.
Four companies were bidding to run trains for 15 years from next April: FirstGroup, Arriva, National Express and Stagecoach.
They were due to submit proposals, but the overall bidding review is not expected to report back to ministers until Christmas, which could delay the Great Western tendering.
Professor Jon Shaw, of the University of Plymouth, said the region was "dependent upon the new franchisee making the improvements".
He said: "We're not going to have line electrification or new trains for a long time yet.
"It was smaller changes that franchisee was expected to deliver which we're gong to see the delay on."
Chris Irwin, from Travelwatch Southwest, said he was expecting about two years of delays, which was "very worrying".
He said: "We're going to see a lot of projects not being delivered, such as new rolling stock, the new Paignton to Exeter half-hourly service, and improvements in Cornwall.
"Passengers are going to suffer."
In Cornwall, retaining the Penzance to London sleeper was also part of the proposed new franchise.
Sarah Newton, Conservative MP for Truro and Falmouth, said she was reassured the government did understand the urgency.
She said: "We're trying to second-guess what the review is going to find out.
"It may conclude that how the franchise is drawn up will proceed.
"At the moment, it is all just speculation."
Related Internet Links
The BBC is not responsible for the content of external sites.