Exeter fly tipping cases double to 937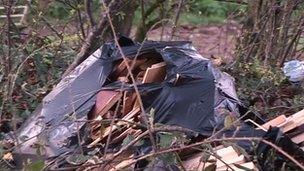 Fly tipping cases more than doubled in Exeter between 2010 and 2011.
Between 2010 and 11 there were 431 cases of fly tipping in the city and in 2011 there were 937 cases according to the latest council figures.
Across Devon there was a rise of 10% over the same period, from 8,225 to 9,056 cases.
Some Exeter residents have called for a return to weekly rubbish collections, from fortnightly, but the city council said this option would be too costly.
Exeter has been collecting rubbish fortnightly in most parts of the city for several years, with general rubbish collected one week and recycling the following week.
Yvonne Bryant, from the Newtown ward in the city, said fly tipping was a problem in the alleyway behind her house.
She said: "If the council gave us back our weekly rubbish collections it would help, certainly in this part of the city where it's worst."
Simon Hill, the city's cleansing manager, said the authority had moved many collections from the rear of houses to the front to alleviate fly tipping "because people do not take ownership of rubbish at the rear of premises".
He said: "We are recording a higher number of incidents but we haven't got to the bottom of why that might be."
He said reverting to a weekly collection would cost nearly £1m.
"Fortnightly rubbish collections are a lot cheaper. It generally works well and we are better off putting resources into tackling fly tipping hot spots as and when they occur."
Related Internet Links
The BBC is not responsible for the content of external sites.