Plymouth bus lane cameras used to enforce restrictions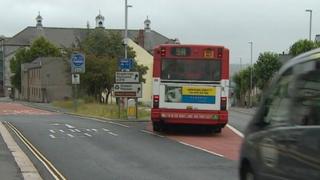 Fifteen thousand fines have been issued to motorists caught driving in bus lanes in Plymouth in the last three months.
Six CCTV cameras were installed in the city in August to enforce bus lane restrictions.
Drivers who were caught have faced a £60 penalty charge.
Clive Perkin, from Plymouth City Council, said some of the money raised was being used to maintain the city's roads.
He said the authority was seeing fewer people being caught by the cameras, something which was replicated in other cities with the cameras.
He added that it was probably because more people were aware of them and they realised that driving in the lane was "unacceptable".
"Some of the money helps to run the highway's network efficiently for all road users, so this can be updating lining and signing for example."
The £60 fixed penalty will be halved if the charge is paid within 14 days of it being issued.