Devon binman Dave Westcott's find snared paedophile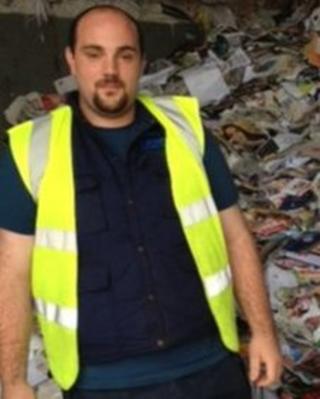 A Devon binman has said he felt physically sick when he saw a paedophile's indecent images of children thrown away in the recycling.
Dave Westcott, 25, was on a round in Tiverton when he found the photographs.
Colin Eaton, 52, of Rena Hobson Court, admitted 18 offences of making or possessing indecent images of children and received a suspended jail sentence.
"I have had dead animals, dirty underwear in the past. But this was revolting," said Mr Westcott.
'Behind closed doors'
The binman, who works for Mid Devon District Council, contacted his supervisor after he found the images and the police were called.
He added: "It's not what you expect to find on your job.
"For a while it played on my mind - why would he do that?
"I have nephews and nieces and a kid on the way. You never know what goes on behind closed doors."
He said about the sentencing of Eaton on 1 November: "I'm pleased he got caught, but I feel the sentence was very lenient. People go to prison for less."
Eaton's eight-month prison sentence was suspended for two years.
He was also put on the sex offenders register at Exeter Crown Court.