Teignmouth council's £3,000 Luny art purchase criticised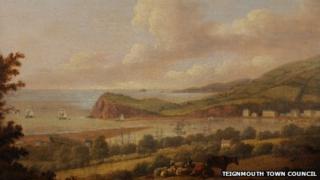 A town council has been criticised for spending more than £3,000 on a painting by a local artist.
Thomas Luny, a prolific painter in the 18th and 19th Centuries, was born in Cornwall but spent the last 30 years of his life in Teignmouth, Devon.
The landscape was bought by Teignmouth Town Council for the mayor's parlour.
Councillor David Cox said "building up an art collection" in austere times was wrong, but the council said it was a "significant" piece of art.
The town council voted unanimously to bid for the Luny which was auctioned by Bearnes, Hampton and Littlewood.
Food parcel
It will be hung in the mayor's parlour in Bitton House - the town council's headquarters - but Mr Cox, a Liberal Democrat councillor, who is also Teignmouth's mayor, said it should be on display in the town's museum.
Mr Cox said he accepted the painting was part of the town's heritage but it would have been more appropriate for it to have been acquired by Teign Heritage Centre with the council's help.
He said buying it to decorate the walls of a council office was wrong.
On the day the painting was purchased, Mr Cox said he was delivering a food parcel to a local family "in crisis".
"I don't think it's right. It sends out totally the wrong message to the public about where our priorities are," he said.
But Conservative councillor Sylvia Russell said not only was it more than 20 years since the council last bought a Luny painting, the landscape entitled A View to Shaldon from Above Teignmouth was "special" because it was painted in 1837 - the year the artist died.
"There's a note on the back confirming that Luny died in Teignmouth in 1837 - aged 79 - and we also have his tomb in the town, so for all those reasons it's special," she said.
Ms Russell said the painting was a view of Teignmouth in the middle of the 19th Century before it was developed and at £3,100, it had been "modestly priced".
"I'm sure there are people who will disagree with our actions, but I hope as the years pass they will appreciate what we've tried to do and I'm quite happy to stand up and be counted," she added.
Luny, who moved to London as a child, was best known for his seascapes and his paintings were regularly exhibited by the Royal Academy in London.
He moved to Teignmouth in 1807 after serving in the Royal Navy for a number of years and despite suffering from severe arthritis in his hands, he continued to paint until his death - producing more than 2,000 works.
His work is currently exhibited at the National Maritime Museum at Greenwich and Exeter's Royal Albert Memorial Museum.