Brixham parents may 'quit work' if nursery closes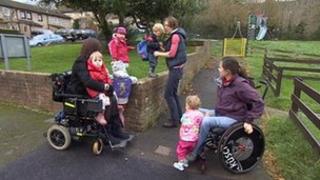 Parents in a Devon town have said they may have to stop working if a nursery rated by Ofsted as "outstanding" is closed.
Torbay Council wants to shut Chestnut Nursery in Brixham because it says it is only operating at half capacity.
But some parents said that without it childcare provision in Brixham was "not adequate".
TC said it would defer the final decision until February to enable a public consultation to be carried out.
'My own person'
Parent Kate Richards said: "If this place closes I might have to reconsider whether I can work.
"It's important for my children to be at a nursery and have time away from me, and I can have time where I can be my own person and then come back and look after them and really value the time."
Laura Cameron uses the all-day nursery provision for her two children while she commutes from Brixham to Plymouth, about 34 miles (55km), for work each day.
She said: "If they take that provision away, us as working parents, which is surely what you're encouraging into the bay, will have nowhere to put our children.
"It doesn't make Torquay or Brixham a very attractive place to live if you've got young families."
Chestnut Nursery used to feed directly into a primary school situated next to it, but after that school closed the number of children using the nursery dropped to half, costing the council £80,000 annually.
Conservative councillor Chris Lewis, of Torbay Council, said: "We've tried the private sector; they're not willing to take it. We went out to procurement; they took a lot of nurseries in the bay but they didn't want that one for the very reason that there isn't the demand."