Devon rail track closed in new landslip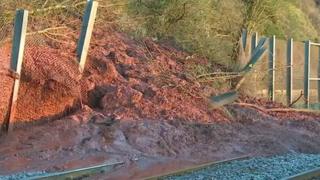 A fresh landslip has closed the railway line linking Plymouth and Exeter at Teignmouth.
The line, which was reopened on Wednesday after weekend flooding triggered a landslip, was closed again in the evening.
About 1,000 tonnes of mud lying against a fence is also threatening the line.
The main line from Exeter to the rest of the country has been reopened after flooding at Tiverton but there are delays and temporary speed limits.
Network Rail said it could be another two weeks before services were back to normal.
Flooding has also affected the line between Exeter and Barnstaple, with buses taking the place of trains.
There is also a limited train service between Exeter and Yeovil, with buses supplementing the train service.
Full details of affected services are on the National Rail website.