Weather spells hard times for UK dairy farmers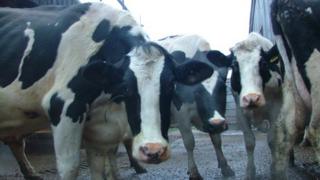 Downpours and a dismal summer have pushed up costs and pushed down milk production on UK dairy farms.
The time is 06:00 GMT and Devon dairy farmer Will Jones and his two staff, Chris Worrall and John Crotty, have been milking, mucking out and spreading bedding and forage in feeding pens for an hour already.
With ice on the ground, the only warmth is from the cows which traipse into the gelid milking parlour.
In-between milking sessions in the morning and afternoon they consume 14 tonnes of maize, silage (rotted grass), oats and other types of feed.
It is a pattern of life that Mr Jones, 43, has known for 14 years, since he bought 28 cows and became a full-time dairy farmer on a council-owned farm at Barnstaple.
The father of two, helped by wife Jo, 39, and young son Nick, now milks 235 cows - about double the average UK herd size - at the rented Higher Living Farm near Crediton.
It is a long day, from 05:00 to at least 19:00, but that pattern received a huge jolt this year with that favourite talking point of the British, the weather.
Looking back on the year, Mr Jones recounts month after month of terrible weather for farming.
"It's been the most difficult year I've known," he said.
Floods in July meant the cows had to be brought inside "for the first time in my life" to save the waterlogged fields.
Cows would normally be brought inside only from October to March.
Forage crops such as maize and silage did not get the sun they needed for maximum goodness.
That has affected the energy and condition of the cows and led to lower milk production.
Each of Mr Jones's cows are producing about 28 litres of milk a day, compared with the average of 32.
UK production in October was 993 million litres, a 6.5% fall on the same month last year, said researchers DairyCo.
Average daily production figures for October were the lowest since DairyCo began collecting data in 1994.
Consultants Dairy Group said UK milk production had been below last year since June, with the shortfall increasing each month.
At the same time as production has gone down, operating costs have gone up, with prices of forage rising because of the poor harvest in soggy conditions.
Managing director Ian Powell said: "Being a dairy farmer is a challenging business at the best of times and never more so than in 2012."
The extra squeeze on profits from reduced payments by milk processors sparked protests by farmers in July.
Mr Jones had been told he was going to get 2p a litre less for his milk by the Arla-owned co-operative Milk Link.
A drop of 2p a litre on the two million litres of milk that his cows produce every year means a £40,000 drop in income.
Mr Jones said after a recent increase, he was now getting "just above" his break-even figure of 29p a litre.
Milk Link has depots in Crediton and North Tawton which produce Charlie and Lola Pink Milk among others.
A spokeswoman said: "We are very sympathetic towards farmers because of the bad weather.
"But the market has never been driven by costs of production.
"We have to pay a price for what we get from the market places."
Mr Jones said the repercussions of the weather would be felt for at least another year, thanks to a shortage of forage.
"The next crop of cereals haven't established very well," he said.
"If we have a dry summer next year we won't have enough forage for the summer, let alone the winter."
The number of dairy farmers in England and Wales has nearly halved since 2002, to 10,688, according to DairyCo.
"A lot of farmers are of the older generation," said Mr Jones.
"If you have another difficult year they will question the need to keep on."
Government figures show that UK dairy farmers are more efficient than ever.
Despite the drop from the weather this year, yield per cow over the years has been increasing and is about 7,315 litres per cow per year, well above the EU average.
Robert Newbury, of the National Farmers Union (NFU), said farmers deserved a "fair price".
"The market for dairy products is growing," he said.
"As far as our members are concerned, we hope this year's weather is a blip."
Back in the milking parlour, Mr Jones is helping a vet check over some cows that are in calf.
Outside, the sun is over the horizon and soon the workers will head for breakfast in Mr Jones's bungalow farmhouse - and a wry smile at a television ad for milk showing cows grazing under a sunny sky.