Grand Western Canal fish rescued after canal breach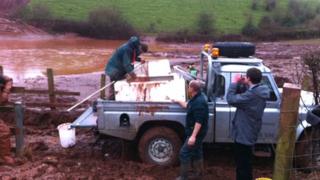 Hundreds of fish have been rescued from a large pool of water that formed in a field after the banks of a Devon canal collapsed in heavy rain.
The fish were washed out of the Grand Western Canal at Halberton last month after part of the bank collapsed.
The Environment Agency, which organised the rescue, said that hundreds remained in the pool and ice covering the water had prevented more being rescued.
Pike, bream, roach, tench, perch and eels were washed into the pool.
'Heart warming'
About 25 people from the Environment Agency and Tiverton Angling Club were involved in rescuing up to 400 fish.
Nick Maye from the agency said: "The bigger fish were particularly important because they will be laying eggs in the spring."
He added that some of the big pike and tench that were returned to the canal were at least 10-years-old.
Mr Maye said: "There was a lot of live and good fish that went back in the canal.
"It's heart warming how many volunteers helped with the rescue."
The Environment Agency plans to rescue the remaining fish next week.
'Most difficult' job
Mr Maye said the rescue had been delayed because priority had been given to the people and 20 properties evacuated during the heavy November rain, and because the agency had to wait for the pool to reduce in size.
It was originally 2m deep (6.5ft) but has dropped to just over 1m (3.3ft).
Mr Maye said rescuers involved in the "most difficult netting job I've ever done" had to watch out for hazards under the water's surface during the operation, including barbed-wire fences.
Devon County Council has pledged £10,000 for a repair fund for the canal, although it is not yet known how much it will cost.