Remains of fallen tree which killed Exeter homeless woman removed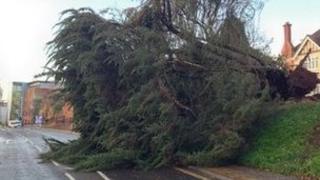 The remainder of a tree in Exeter which fell on a homeless woman and caused her death during recent storms has been removed, Devon highway bosses say.
Michelle Conroy, 21, died in hospital after being injured by the spruce tree in Western Way which came down on a tent she and two other men were in on 24 November.
Engineers removed the tree on Sunday morning.
Devon and Cornwall Police called Ms Conroy's death a "tragic incident".
Two men aged 27 and 35, who were also in the tent, were injured in the tree fall.
Tributes were paid to Ms Conroy by members of the city's homeless community, and by the city's Friday Night Cafe at St Petrock's Church, where she was a regular visitor.